Since I started my legal practice nearly five years ago, I have been faithful in posting a blog on veteran issues every week. Lately, however, I have been a bit inconsistent, and since my followers have been wonderful at offering feedback and comments to the blog, I wanted to explain that I missed a week or two because my debut middle grade (for ages 8-12) novel is being released today. I have been busy with a blog tour, organizing school and library visits, and getting my next book into the hands of my literary agent. For more details on all that, visit my writing website here. Thank you for your patience in waiting for this next post!
And why the reference to monsters? That's what the book is about (and why it makes sense that it's a Halloween release):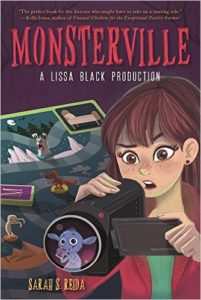 Monsterville is Jumanji meets Goonies, a fast-paced adventure where board games come alive and winning your life depends on applying monster movie rules of survival. 13-year-old film-obsessed Lissa discovers a shape-shifting monster in her woods and decides to film the greatest horror movie of all time. . . until her little sister is kidnapped to the monster homeland of Down Below and she needs her star's help to rescue her.
The literary rights to Monsterville are represented by Lauren Galit of the LKG Agency, and the film rights are represented by Pouya Shahbazian of New Leaf Literary (Divergent, The Selection).
Because I've missed a few weeks, there are some relevant cases I'd like to share with you. Here they are, in a nutshell and with any links to the cases themselves:
In URS Federal Services, the GAO held that the Navy did not err in assigning a "technically unacceptable" rating to a proposal after an individual identified as "key personnel" resigned. B-413034 et al. (July 25, 2016). The resignation was not the contractor's fault, but the Navy acted reasonably in downgrading the proposal since technically it affected the quality of the services offered by the contractor.
The lesson from this protest is to protect yourself from this possibility of losing key personnel. Give them an incentive to stay and/or disincentive to leave in their employment agreement. This is keeping in mind that a court won't make someone continue to work for an employer they want to leave. They can't be forced to perform, but a strong employee contract can either entice them to stay (such as by giving them incentive payments for supporting that particular contract); or it can compel them to (such as by assigning a monetary penalty if they resign prior to the expiration of a certain period of time or milestone).
In Bryan Concrete & Excavation, Inc., the Civilian Board of Contract Appeals (CBCA) held that an SDVOSB set-aside contract was void and unenforceable because the prime contractor had entered into an illegal "pass-through" arrangement with a non-SDVOSB subcontractor. CBCA 2882 (August 26, 2016). Because the contract was obtained by misrepresenting the concern's eligibility for the set-aside contract, it was invalid from its inception and the contractor had no recourse against the government when it was later terminated for default.
In Matter of Jamaica Bearings Co., the appellant appealed a Small Business Administration (SBA) area office determination that it was not an eligible SDVOSB for purposes of a set-aside. A disappointed offeror had lodged a status protest, and the awardee had failed to respond to the SBA's request for information. Consequently, the SBA area office found the awardee ineligible. Here's the twist: the protest itself was insufficient because it contained non-specific allegations. (See 13 CFR 125.125(b)). As such, the SBA Office of Hearings and Appeals ruled that the status protest should have been dismissed at the outset for lack of specificity, and reversed the SBA area office's determination that the awardee was ineligible.
In this case, Jamaica Bearings Co. got lucky. Yes, the SBA OHA ruled in its favor in finding that the SBA area office erred in considering the protest; however, the SBA OHA was also very clear that Jamaica Bearings Co. had no business in introducing new evidence on appeal. If the protest had been sufficient, it had missed its window for responding and would have lost out on the award. In fact, this happened to another contractor not too long ago.
Cases often offer lessons, and make sure you stay informed to stay up to date on your rights, obligations, and recourses as it relates to federal contracts.
*Did you find this article interesting? If so, sign up for Sarah Schauerte's legal blog on veteran business news at: http://www.legalmeetspractical.com.